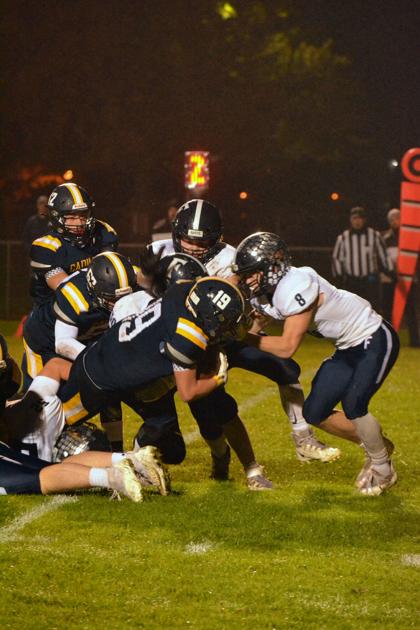 Cardiac Cadillac: Vikings survive to beat Fruitport in playoff opener | Sports
CADILLAC – They are still playing.
This is perhaps the best that can be said.
And at this point in the season, maybe that's all that matters.
Cadillac outlasted a pesky Fruitport team, 42-35, in an MHSAA Division 4 pre-district football competition on Friday at Veterans Memorial Stadium.
The Vikings (8-2 overall) will host Whitehall (8-2) in a district title game at 7 p.m. on November 5. Whitehall defeated Sparta 40-20 on Friday November 5th.
Before the planning shifts to Whitehall, however, Cadillac has some work to do and it really isn't on the playing field.
Both teams let their emotions run through them on Friday and it turned what was a solid first half into a festival of flags down the home stretch.
Fruitport's last workout was kept alive by a few Cadillac penalties, including unsportsmanlike conduct. The Trojans had one last push to the end zone, but he was pushed back and time ran out.
The Trojans (4-6) amassed 387 offensive yards on Cadillac, including 197 in the air.
The Vikings defeated Fruitport 28-12 in Week 2 after being more physical than the Trojans and carrying them.
"It's tough every time you beat a team twice in a year," Cadillac head coach Cody Mallory said.
"We really pursued them in the first meeting and they touched on these points.
"They did a good job preparing protections. We also had a few errors which led to some big games. We definitely have things to work on.
Cadillac entered first on the board at 4:46 of the first quarter on a 4-yard run from Chris Reinhold before Fruitport tied it on a 44-yard run from Pierce Jolman three minutes later.
The Vikings took a 13-7 lead on a 2-yard run from Aden Gurden before the Trojans responded again on a 19-yard run from Aiden Vela for a 14-13 lead at 4:39 of the second quarter.
A big 57-yard run from Gurden put Cadillac back at 6:43, then a 44-yard run from Carter Harsh made it 28-14 with 10:34 left in the first quarter.
The Vikings largely did what they wanted offensively on the pitch and kept coming back.
"I feel like our guys did a good job moving the ball," Mallory said. "We did a really good job up front and we knew ball safety was going to be an important thing.
"I was really happy with the way we took care of the ball. "
Fruitport brought it down to 28-21 on a 2-yard run from Paschal Jolman at 5:21 of the third quarter before Gurden scored again on a 3-yard run with 1.8 seconds left to take the lead to 35-21.
The fireworks had only just begun.
The Trojans converted a 76-yard passing play from Gavin Reames to Cody Nash to open the fourth quarter to narrow it down to 35-27 and Cadillac apparently put it on a 14-yard run from Collin Johnston with 4:43 to to play.
That's when things turned sour and Fruitport continued to air. The result was a 12-yard passing play that brought the score to 42-35 with 1 hour left.
The Trojans recovered the free kick in midfield with 54.4 seconds to go. They would pick up about 20 yards before the final heave moved away and Cadillac held on.
Kaleb McKinely led Cadillac with 126 rushing yards on 20 carries while Gurden had 96 yards on 134 carries. Harsh also had 98 yards on six carries.
Cadillac totaled 388 rushing yards and just 20 passing yards.
Johnston led the way defensively with eight tackles while Chris Reinhold had seven. Harsh, Teegan Baker and Trenton Dennis each have six, while Harsh also had one assist.
Fruitport quarterback Gavin Reames was 12 of 26 for 197 passing yards.
Nash caught four passes for 111 yards while Vela caught six passes for 80 yards.
Jolman carried the ball 16 times for 132 rushing yards.