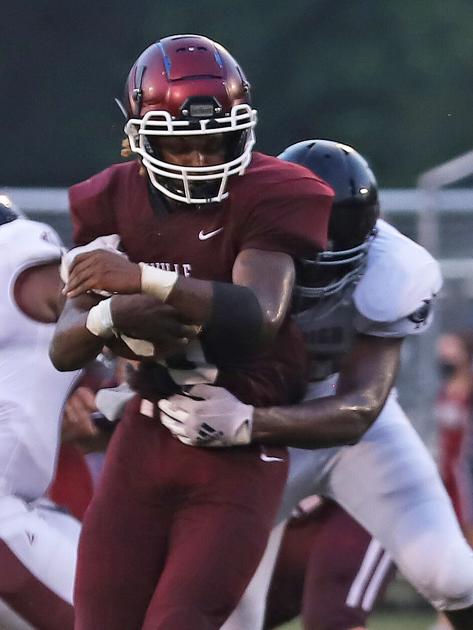 DANVILLE SNAPSHOT: Vikings seek to right their mistakes | Sports
CHAMPAIGN – It was literally minutes after Danville soccer team had beaten Champaign Central 49-7 in their season opener that head coach Marcus Forrest revealed his plans for the week 2.
"I'm going to break their spirit," Forrest said.
And that's exactly what he did this week as the Vikings prepare for a 7 p.m. game this Friday night against Champaign Centennial at Tommy Stewart Field in Champaign.
But why did he do this?
"The movie shows a different story than the scoreboard," Forrest said. "We could have made other big plays in this game. Whether it was penalties, missed blockages, or just following the wrong routes, we made many different mistakes.
"It's good that we got the win, but we have to correct those mistakes and step up our pace. The more you know, the more confident you are as a player and the faster it will get you to play. "
And his players agree.
"We have to improve individually and that will allow us to improve as a team," said Danville junior Tommy Harris, who had 62 rushing yards and nine tackles in the win over Central. "I know I made a lot of mistakes last Friday night.
"We were about to overcome our mistakes as a team. We continue to learn to communicate and do everything we do, as a team. "
Forrest not only showed the Vikings (1-0) the movie of Friday's game with Central, but he also made them watch the 2021 spring game when Danville defeated Centennial 13-0 on March 27.
Much like this season, Danville entered the Centennial game with an impressive victory over Central, but the Vikings were limited to just 150 yards of total attack in a fierce battle against the Chargers.
"I remember that game very well," said Forrest. "I had just been released from the hospital (after a heart transplant) and it was the first game I got to see in person during the spring season. I was extremely frustrated with our efforts. It wasn't that they didn't know their missions, it was a matter of effort.
"I think they rested on their laurels and took it for granted. Centennial came out and punched us in the mouth. "
Forrest expects a very similar response from the Chargers, who enter Week 2 after a 65-0 loss to the Urbana Tigers.
"Centennial is returning almost everyone to their team last year," Forrest said. "It looks like they're going to be more physical up front than Central and we have to prepare for that.
"Each little one, our opponents will continue to improve and we have to improve with them."
One thing Danville tries to avoid is a slow start.
Last Friday against the Maroons, the Vikings found themselves down 7-0 in the first three minutes of the game.
"We have to come out stronger and better than we did last week," said Harris. "We managed to overcome it, but it's not something we want to do every week.
Friday's game at Tommy Stewart Field in Champaign will be the first of at least five road games this season for Danville.
"Sometimes with our kids it seems like they play better when they're on the road," Forrest said. "I don't know if it's the pressure to be home in front of a lot of fans that they know, but we'll always have a good group of fans at Champaign.
"Until you go through a game on the road, you don't know exactly how they're going to react."
Friday's game will start at 7 p.m. and will be broadcast locally on WDAN-AM 1490.