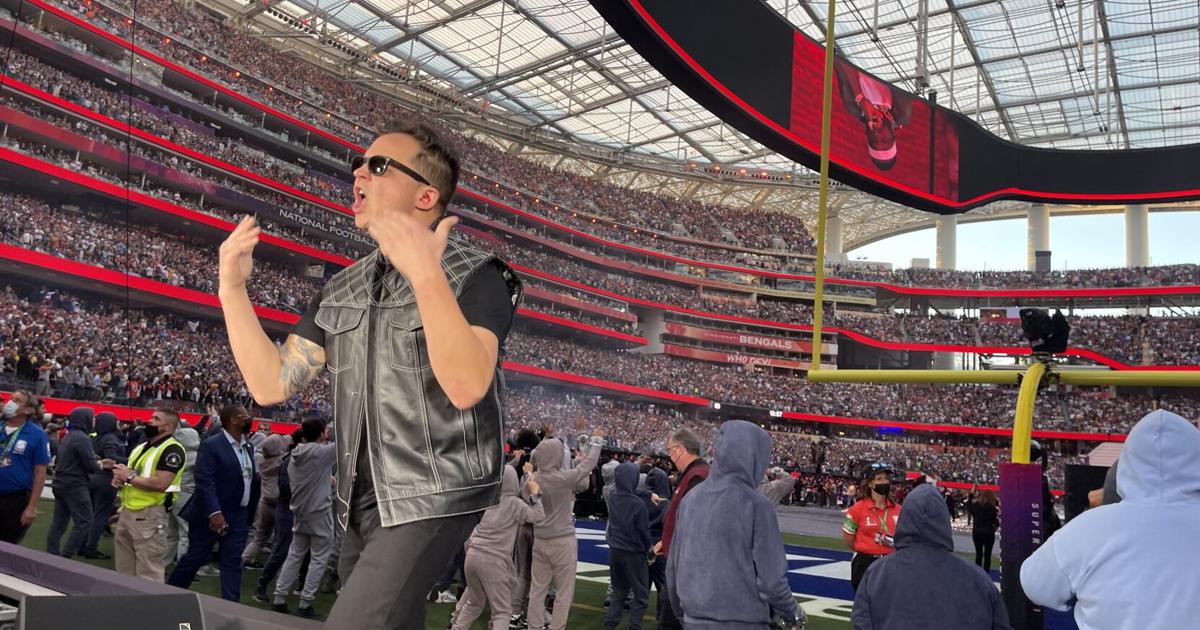 Deaf rapper linked to Lake City discusses his Super Bowl appearance and his artistic philosophy | News
LAKE CITY — Sean Forbes was spending time with his parents "up north" earlier this year when he received a text message from the National Association of the Deaf.
"At first I thought I was in trouble," Forbes laughed during a Thursday Zoom interview with the Cadillac News.
In the text message, the association asked Forbes if he would be interested in performing at the Super Bowl halftime show.
"I was like, 'what do you mean?'" said Forbes, whose initial confusion turned to excitement when he found out that his good friend and fellow deaf rapper, Warren ( WaWa) Snipe, would also be featured.
"At that point, I was like, 'I'm totally in for this,'" Forbes said. "I've been preparing for it for 30 years."
Forbes, whose mother is from Lake City, developed deafness at 9 months old following an illness. As a child, his deafness prevented him from hearing the melodies of songs, but Forbes still felt the rhythm and was fascinated by music from an early age.
"He wanted to be a rock star," said his father, Scott, who is also a musician. "He could feel the music in the house."
"I always wanted to be part of it," Forbes said. "And I knew how hard it was to make a living in the music industry, but there are so many roles in it…I wanted to find something I could do."
Throughout his teenage years he made music and music videos in his basement, and early in his career he worked at a studio where Detroit rapper Eminem was recording. There, Forbes came across a compact disc with the word "Beats" written on it. He took it home with the intention of writing lyrics to the beats, not realizing that it might have cost him his job, as leaking unfinished material on the internet is a major concern for any studio.
Borrowing the CD from the studio was a fateful act, as the beats were produced by a 15-year-old named Jake Bass, who is a nephew of the brothers who discovered Eminem. Around this time, Forbes and Bass developed a unique songwriting relationship that continues to this day, leading to a recording contract with WEB Entertainment and the release of two albums; his latest release, the 2020 album "Little Victories" hit No. 1 on the iTunes Hip Hop charts and No. 1 in Amazon Music sales across all genres.
In his videos and live performances, Forbes signs song lyrics in American Sign Language. When the National Association of the Deaf asked Forbes to perform at the Super Bowl halftime show, it would be an ASL rendition of songs by several popular rap and hip-hop artists, including Eminem, Dr. Dre, Snoop Dogg, Kendrick Lamar and 50 Cent.
In the days leading up to the show, Forbes said he put together a playlist of songs he thought the National Football League might end up choosing for the performance. He said he wanted to get a head start on learning routines for songs, which is a laborious process that requires hours of rehearsal to build muscle memory for his hand movements to be quick. , fluids and fluids.
When the NFL finally informed him of the songs he would be signing, Forbes said it was pretty close to the set list he had drafted.
"I was blown away," Forbes said. "I thought what they put together was a really great presentation."
Some of the songs Forbes didn't need to practice much, as he already knew their ASL translations and could perform them well. Others, especially those by California rapper Snoop Dogg, took a bit more work.
"He has his own distinct style," Forbes said. "It was important that I program myself to be like that…that I could express that."
Standing in a room with famous musicians from across the country for minutes leading up to the show was surreal, said Forbes, who is rarely "starstruck" when meeting celebrities but admits that when he met Dr. Dre, it was like that a little bit.
"I always wanted to meet him," Forbes said. "The only other time I felt that way was when I met Stevie Wonder."
Although the show was a highlight of his career, Forbes said if he was asked to perform at the Super Bowl again, he would likely decline the offer. With thousands of screaming fans, fireworks in the background, and countless other noises and distractions, Forbes said it was very difficult to focus on the beat. In the end, he said he had to rely mostly on his memory during the performance, as he couldn't really hear the songs.
Another reason he would likely turn down another Super Bowl offer is to now focus more on behind-the-scenes work, including supporting up-and-coming acts, which is one of the nonprofit's goals. which he co-founded. called the Deaf Performing Arts Network.
"We work to make music accessible to the deaf community," said Forbes, who recently returned from a trip to Barbados, where he met the deaf community there and learned about the challenges they face.
Drawing inspiration from his own life, Forbes said he strives to make art that will positively impact the lives of others.
One example of an incident that resonated with Forbes' philosophy of using one's own life experience to produce art is last weekend's infamous Oscar showdown between actor Will Smith and comedian Chris Rock. .
Forbes said it read that on a stand-up show afterwards, Rock said that while many people would like him to discuss the incident, he still hasn't had time to process it. happened, but when he did, it would get "funny" again. "serious" part of his act.
Instead of sounding off on social media immediately, Forbes said Rock may eventually turn the incident into something productive.
As he considers causes in his life close to his heart, such as reversing the trend among some in the field of audiology to downplay the importance of learning sign language, Forbes said that he hopes to have the same degree of patience and timing as Rock.
"It takes time to create art," Forbes said. "And I want to do something meaningful. How can I make a change in a very meaningful way? »
With new projects constantly on the horizon, Forbes recently said he relished the time he was able to spend with his family, including his wife and two children.
To see a portion of the performance from Forbes' Super Bowl Halftime Show which features his rendition of Eminem's hit song, "Lose Yourself", go to https://www.youtube. com/watch?v=7bzUCIb1PeA.