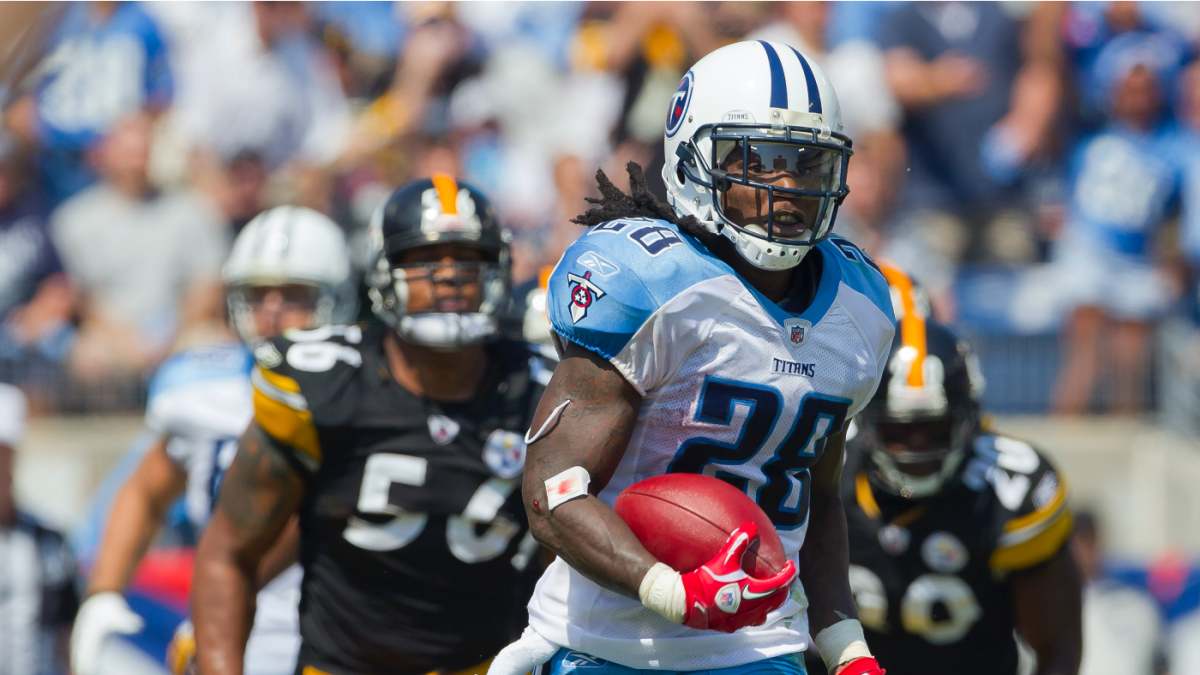 Former 2,000-yard rusher Chris Johnson could have been a Steeler and here's a big reason why it didn't happen
Similar to this year's draft, one of the NFL's worst-kept secrets in the 2008 draft was the Steelers' desire to draft a first-round running back. What is a surprise was almost the Steelers running back, but ultimately didn't select with the 23rd pick overall.
Chris Johnson, who bolstered his draft supply after running a 4.24 in this year's 40-yard combine dash, had a pre-draft visit to Pittsburgh. Johnson was unsure why he was visiting the Steelers, as they already had Pro Bowler Willie Parker twice already. But looking back, Johnson believes Pittsburgh was seriously considering recruiting him.
"Now that I go back and think about it, I think they were probably going to take me," Johnson recently said on the "All Things Covered" podcast with Patrick Peterson and Bryant McFadden. "They took Mendenhall instead. They didn't take me because I didn't want to have the MRI on the visit."
Instead, the Steelers picked former Illinois backer Rashard Mendenhall with the 23rd pick. Johnson, after a stellar final season at East Carolina, was picked by the Titans with the next pick. Mendenhall only appeared in four games as a rookie before injury ended his season prematurely. The Steelers won that year's Super Bowl despite finishing 23rd in the league on floor. Johnson earned the NFL Offensive Rookie of the Year honors after racking up 1,228 yards and nine touchdowns while helping to lead the Titans to a 13-3 record. The following season, he became only the sixth player in league history to run over 2,000 yards.
Going back to his pre-draft visit with Pittsburgh, Johnson said the Steelers wanted to examine an injury he sustained in college. Johnson – who reluctantly had an MRI during the combine – told Mike Tomlin and the rest of the Steelers staff that he was claustrophobic and the only way to get him for an MRI was to "fall asleep" . After about 20 minutes (during which Johnson called his agent to brief him on the situation), Tomlin returned to the meeting room.
"We really need you to have the MRI," Tomlin recalls, telling him, "but if you can't get it, we'll have to send you home. We really can't do business with you."
The Steelers then sent Johnson home, a move he's still thinking about.
"I was supposed to be a Steeler," he said. "I'm coming to Pittsburgh. They've talked to me; I've talked to all the coaches. Tomlin, they love me, this and that."
Johnson would have been the perfect replacement for Parker, another fast running back who has never been the same after suffering a serious leg injury at the end of the 2007 season. McFadden, a member of both Steelers Super Championship teams Bowl in the 2000s, believes he and his teammates would have won even more gear had Johnson been drafted by Pittsburgh.
"We felt like we would have won two more rings," said McFadden. "If we had had Chris Johnson, we would certainly – in the worst case scenario – have had two more rings. Hands down."
"It would have been crazy," Johnson said, thinking about what would have happened if the Steelers had drafted him. "I always had a kind of feeling about Pittsburgh because of this situation. I feel like it could have been handled differently. I can see if I acted arrogantly.… They should have been. handle the situation differently. "
While they may have been better together, the Steelers and Johnson both had successful runs in the years following the 2008 draft. Pittsburgh appeared in two of the next three Super Bowls and in 2013 selected the The franchise's next running back at Le'Veon Bell. Johnson would run for over 1,000 yards in each of his first six seasons while becoming one of the best full backs in the league. McFadden ranked Johnson as "one of the most feared and electrifying players to ever play the game."
Johnson hopes his career will one day be celebrated two hours west of Pittsburgh in Canton, Ohio, when he is eligible to be inducted into the Professional Football Hall of Fame. Johnson, who last played in 2017, will be eligible in 2023.
"I think I'm the best home runner in the history of the game," said Johnson, whose seven runs for over 75 yards are the highest in league history. "I think I am [a Hall of Famer], but I leave it to [the voters]. They don't like it when players are arrogant and try to name their stats when trying to make the Hall of Fame … but sometimes you have to talk so they know. "