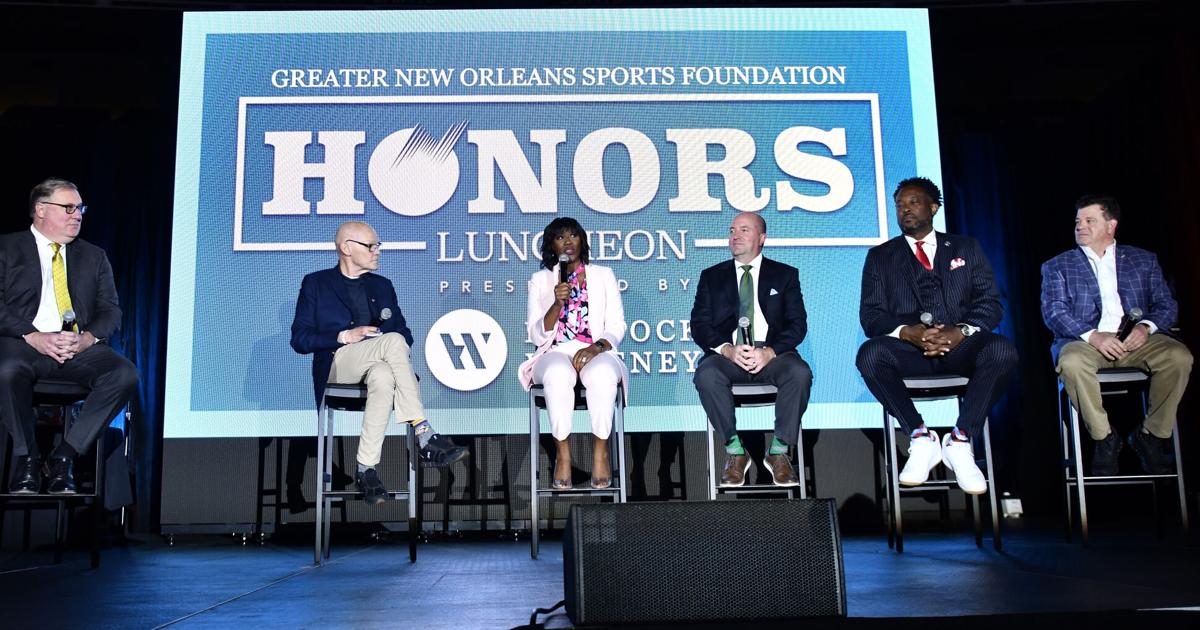 LSU's Scott Woodward wants all public schools 'to be healthy' and successful in football | Colleges
The Greater New Orleans Sports Foundation hosted a panel with some of the state's top sports leaders in the college and professional ranks at its annual honors luncheon Friday at Caesars Superdome.
Political analyst James Carville moderated the panel with Gulf Coast Athletic Conference commissioner Kiki Baker Barnes, Tulane University athletic director Troy Dannen, University of New Orleans athletic director Tim Duncan, New Orleans Saints and Pelicans president Dennis Lauscha and LSU athletic director Scott Woodward.
Their conversation:
Carville: I want to start with you, Dr. Barnes. In 1972 we had Title IX, which changed the sport for everyone. Could you tell us a bit about the effects and benefits of Title IX and what it means for female athletes?
Baker Barnes: So I wouldn't be here if it wasn't for Title IX. I was born in 1975 and the first thing I wanted to be was a cheerleader. But I had friends who had the opportunity to play sports. I went to try out for the basketball team, and that's how I got my first taste of the sport. This would not have been possible if, in 1972, they had not passed the law. So my entire career as commissioner of the Gulf Coast Athletic Conference can certainly be attributed to Title IX. One of the things that I've seen that I think is really great is that there are so many more women now in leadership positions in sport. … We have seen so much progress, but there is still much to do. Although we have more girls participating in sport, we don't see that in leadership. The last stats I saw, I think through the NCAA, showed that 24% of all women leaders in sports lead as athletic directors. When you look at that by race and break that down to black women, it's at 4%. So we have a long way to go, but we will keep pushing.
Carville: I understand you all signed a TV deal (with Urban Edge Network)?
Baker Barnes: We were doing. I'm so excited. We recently signed a $1.2 million media rights deal. The Gulf Coast Athletic Conference, for those who may not be aware, consists of eight HBCUs. We are the National Association of Intercollegiate Athletics' only HBCU conference, and the NAIA was the first to pass NIL legislation. So we're really excited about what this is going to do for our schools and how we're going to be able to level the playing field in this area.
Carville: Tim, you are considering adding a football program. Can you explain to us the decision taken by the UN to have a football team and what it entails to create a football team from scratch?
Duke: Sure. We commissioned an independent group to carry out a feasibility study to understand the cost and benefits of football. They looked at six city campuses, suburban campuses, similar to the University of New Orleans, in the urban centers of San Antonio, Charlotte, Mobile, Norfolk and Atlanta. They noted that after starting football six years later, enrollment increased by 37%. Two decades ago, the University of New Orleans had about 18,000 students (in enrollment). Right now we are at about 8,000 students. It took something very dramatic for this drop, it was Hurricane Katrina, population displacement, and finally it was TOPS. These things happened in a short time that redistributed the population here and had a negative effect on our university. In order to try to reconstruct this (inscription), we felt we needed something dramatic. Football, marching band, women's soccer and women's golf give us the opportunity to do this. The best part about it, it won't take any funds from the state. Students will vote to impose an increase in their tuition fees. So that's the vote. We haven't started it yet. They will vote Nov. 7-8 on whether to raise their tuition by $300 net per semester to fund football for us.
Carville: So what's the end result? What is the start-up cost of a program like this?
Duke: For an FCS (NCAA Division I) program, which we would be, that's about $6 million per year per year. Tuition fees would cover approximately 60% of this amount. We would have to get the remaining 40%. That includes all revenue, so ticket sales, corporate sponsorships, donations, things of that nature. So it will take a community to make this happen, but our students will vote to see if they want to change this experience. If so, we will have football.
Carville: Troy, so you're sitting on a 4-1 record now, aren't you? Could Tulane really end up going 10-2 or something this year?
Duke: Historically, we're 4-1 for the third time since 1980. So the very idea of ​​mentioning the word 'ten' is actually a nice place, especially after last year when we were 28 days in a hotel in Birmingham during the storm, I came out of it with seven ACLs, three shoulder injuries from not being able to lift and train, and it was a lost season. So to be able to come back this year with the same guys and have a much better experience, it's pretty neat on campus.
Carville: The trajectory is that college football is going to have 30 teams in a major division, and it's no secret that Tulane probably won't be one of them. What role do you see schools like Tulane playing in the shape of college athletics going forward?
Danan: So maybe a bit of historical hindsight. … In the mid-1980s there was a Supreme Court case, and after that case the NCAA really became a different organization and it started doing two things. He started regulating cost containment measures on campuses and started trying to regulate a level playing field. Essentially, he tried to make LSU and Tulane equal from a rules perspective when objectively, we really aren't. For the next 40 years we had a 400 page rulebook instead of a 40 page rulebook. Now the Supreme Court, a year ago, said, "It's a violation of antitrust law." So we're deregulating ourselves. And on your point about being 30 years old, when you deregulate, you're basically removing roofs that we've been trying for 40 years to put over our business.
Scott's budget and mine don't match much, but we're trying to play for the same trophy. No matter what happens financially, our goal, our motivation, whether it's institutional ego or whether it's history, we're still going to try to play for the same trophy, but somehow financially, we don't don't play the same game. I hope that the experience you can give to the children who participate is the same. The crowd may not be the same. The mid-'60s decision for Tulane to leave the SEC seems worse by the day, but it was made then. But financially, it can be a different game. And although there may be 30 schools doing something, and 30 schools may have employees playing football for them, but I hope we all play together somehow. If you compare it to today, we are playing for the same trophy that Scott won two years ago. But would someone look at us and say that there is nothing but 10 teams right now that can win the national football championship? There probably isn't just because of the way we're structured today.
Carville: One of my favorite experiences in all sports is going to a basketball game at Fogelman (Arena). It's fun to watch basketball in the gym. I mean those are his roots. That's why people came. And you really have gym experience at Fogelman.
Danan: And Fogelman is the eighth oldest basketball arena in the 353 nation that hosts Division I basketball. It is located right in the middle of campus. There are approximately 3,200 places. The biggest advantage we have is this little building, because it's a pit to play in.
Carville: Scott, you're in SEC West, the toughest neighborhood for college sports. How is LSU doing in the NIL landscape and can you stay competitive with Alabamas and Texas, Oklahoma?
Wood : I think about it all the time. We're resilient in this state and we're going to compete with Texas, Texas A&M and Alabama in the fundraising game, so that's not a problem. … What Kiki said and obviously what Tim is doing and what Troy is currently doing with his teams is important to us because we have to be healthy as a unit and as a body to continue what we do. And we're going to talk about that too, I'm sure, with the Saints about the importance of our power system and our individuals because we're a grant of about $1 billion a year to the NFL as a as system power. And that he needs us healthy, just like Dennis needs us healthy, just like I need everyone healthy and it needs to be in this space.
But we're going very well, James, to compete with the best. And I'm excited about the NIL space because we can finally do something good for our student-athletes.
Carville: What do you think of the game against Tennessee tomorrow? Do you think we'll be ready to play at 11 a.m.?
Wood : Yes, we are. And we can't play like we did against Auburn and Mississippi State, even though we've had wins. We will have to play the whole match. And the offense is going to have to have a sense of urgency and a sense of salvation, to do that. And if we do that and execute like we did this week, I expect good results.
Carville: Dennis, you wear two hats as president of the Saints and Pelicans. Can you talk about the excitement the Pelicans are having in New Orleans right now?
Lausha: My first day of work, I was in an accounting firm and I asked the chief accountant: "Give me advice to succeed". He said, "Hey, look, there's going to be ups and there's going to be downs, and you just have to stay balanced." And my God, it was difficult to stay even last season in March. But we had all the ingredients of a very good basketball team. We had talented players. We had guys who really cared about their teammates. For people who went to the game or watched the game, if you watched the intro, these people really cared about each other. You saw the momentum and it kept growing, it kept growing, and finally it broke through. …And it came and I'll tell you this, you must be glad you bought your tickets. Thanks to (Vice President of Ticket Sales) Mike Stanfield and the staff, we have the highest subscription base this club has ever had, certainly since we bought it or even since it arrived in New Orleans now. So everyone is really excited about the Pelicans, and obviously we're hoping to deliver it for the city.