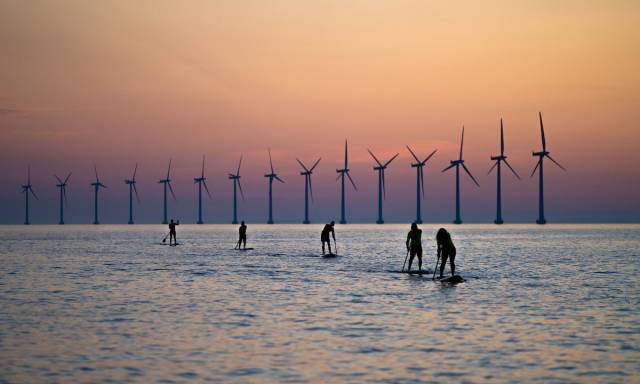 The 24-hour Viking SUP Marathon returns for 2022
COPENHAGEN, Denmark – Have you ever experienced a Nordic fairy tale or tried paddling at night? Whatever your experience, the Red Bull Midsummer Vikings welcome you with open arms. For the third consecutive year, six-time SUP World Champion Casper Steinfath invites paddlers of all levels to Copenhagen on June 18-19, 2022 to celebrate Nordic Midsummer and team spirit.
Like in the fairy tales of Hans Christian Andersen, it all started "once upon a time" with a crazy idea and 150 paddlers in 2019. This year, Casper hopes for 500 paddlers of all levels on the starting line on Saturday June 18, 2022 when the third edition of the world's only 24-hour SUP relay race begins.
"When I crossed the Skagerrak Ocean in 2018, I felt the power of being on a team. I was the only one paddling, but the crew around me gave me a taste of that 'feeling of team spirit' and made me believe that all of us can take on great challenges when we have a strong team behind us. I want to bring that to the SUP world," says Casper Steinfath.
Midsummer Viking Challenge 2021 | Photo: Jakob Gjerluff
More than just a race
At Red Bull Midsummer Vikings, participants will experience what it feels like to push themselves to the limit as teams must paddle for 24 straight hours around the 5km circular course – in daylight and in the dark. darkness. Each team is made up of three to five paddlers, and it is up to each team to decide how often their paddlers will take turns during the 24-hour challenge. But the event is much more than just a race.
"Our goal is to create a fun, world-class event not just on the water: when you set foot on the event site, you step into another world. With delicious food, live music and vibrant festival atmosphere, we aim for our attendees to forget about the outside world and be totally immersed in this colorful 24-hour adventure," says Casper Steinfath.
The social part of Red Bull Midsummer Vikings makes the event special and unique in the world. Participants have plenty of time on site to meet up with friends and family.
Midsummer Viking Challenge 2021 | Photo: Jakob Gjerluff
Social and for all levels
"Midsummer Vikings is very rewarding. You meet lots of people from other clubs and countries, and you have time to talk to them. It's fun and intense," says Karen Ranlov of the Copenhagen-based club Bellevue SUP.
Bellevue SUP is one of the biggest SUP clubs in Denmark, with lots of kids and youngsters having fun on the water. They have been part of the event since the first edition three years ago. This year, they have already recruited four teams.
"The good thing is that the course is short and relatively easy. Anyone, at any level, can enroll," she adds.
Casper Steinfath paddling in the dark at the Midsummer Viking Challenge 2021 | Photo: Jakob Gjerluff
Flat and slightly choppy water
The course consists of a five kilometer long lap around the man-made "Amager Strandpark" in the heart of Copenhagen. There is nice flat water on the inner stretch and the slightly choppy waters of Øresund on the outside. Although the Oresund can be rough, the course is neither difficult nor dangerous. And don't worry – the professional water safety team will take good care of you around the clock.
I will never forget the feeling
"It's barely dark at night in mid-June in Denmark. The sun barely dips below the horizon, and it's only twilight darkness for a few hours. That's part of what makes the Red Bull Midsummer Vikings so unique," says Paddy Boyum. who joined the event with his Swedish team last year. "I will never forget when I arrived at the finish line after a great evening lap. The sky was colored red by the setting sun. The band was playing and all the paddlers and spectators were finally together. is hard to repeat, but I will never forget that feeling," said the Swede.
Paddling for a good cause
Last year, one team in particular proved that the event was for all levels. 'Surfgaarden' (The Surf Farm) is a rehabilitation center for veterans with PTSD. They joined the race as they were the beneficiaries of the charity project in 2021. At Red Bull Midsummer Vikings, each team is obliged to donate an amount of their choice to a charity project chosen by the organizers. In 2021, the teams together donated more than 16,000 euros to Surfgaarden.
"It meant a million to us to join the Red Bull Midsummer Vikings. One thing is that we received a fantastic donation for equipment. It was even more amazing to see our veterans safe with all these great people," said said Peter Emil Højlund from Surfgaarden. .
Midsummer Viking Challenge 2021 | Photo: Jakob Gjerluff
Registration
There are still places available for the Red Bull Midsummer Vikings 2022. You can find out all about the event and register here.
Price: DKK 3,000 per team for up to five paddlers, including food, team tent site, GPS tracking and much more.
Accommodation: It is possible to stay in a tent, caravan or motorhome in the sports areas from Saturday to Sunday. If you are arriving on Friday or earlier, please find other accommodations until Saturday morning. However, it is possible to set up your tent or motorhome on Friday and stay elsewhere until Saturday morning. The reason for this is that camping in public spaces in Copenhagen, in general, is prohibited.
Equipment: Only boards 14 feet and under are permitted during the event. However, Mega SUP, tandem SUP or other boards can be used in the first and last round. Each team should bring at least one board, but as we paddle the first and last round in one large group with all paddlers on the water, we recommend bringing extra boards. The leash is compulsory. A life jacket or PFD is strongly recommended. The flashing red light on your back is mandatory between 9:00 p.m. and 5:00 a.m. Each team can share a flashing light.
For more information on the 2022 Red Bull Midsummer Vikings, click here.