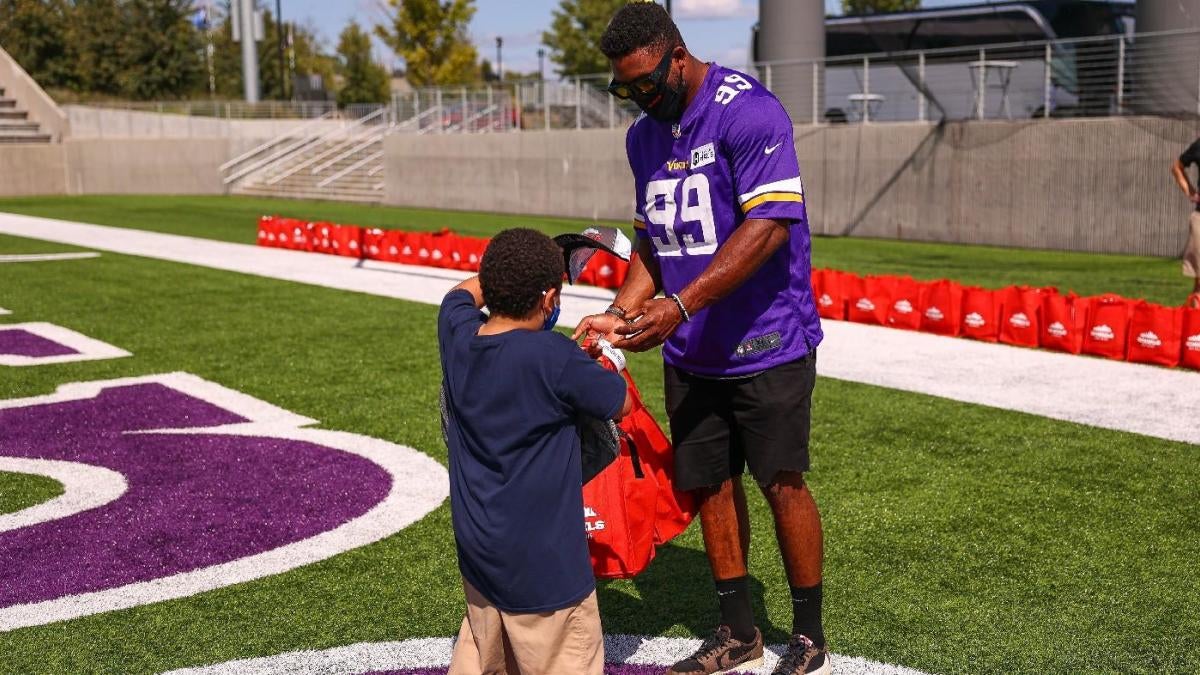 Viking star Danielle Hunter helps Minneapolis families by helping them give a back-to-school surprise
The Vikings lost in Week 1, but received encouraging results from one of the most important players of their 2021 season, with star passer Danielle Hunter returning to the roster after missing the entire roster. year 2020 with a neck injury. Not only that, but Hunter also secured Bengals quarterback Joe Burrow for his first sack of the year, bringing his career tally to 55.5 in just over five healthy seasons. Going forward, Hunter is determined to be the force that stabilizes and directs the defense of Minnesota.
Hunter is one of the most physically imposing defenders in the game, with a uniquely toned 6-foot-5 frame and 252 pounds. On paper, his resume had already established him as a perennial pro Bowler, with former Vikings star Jared Allen predicting a 20-sack season in his future. But now Hunter is determined to mentally pursue opponents and bring Minnesota back to the race in the process.
It's a stark contrast to Hunter's state of mind for what was an even bigger business off the pitch.
Days before his season kicked off against the Bengals, the former All-Pro was part of a trio of Vikings to personally meet nearly 50 boys and girls at TCO Stadium, the training ground at the headquarters of the team. All of the youth were from People Serving People, Minneapolis' largest emergency shelter for homeless families. And they all left with a full stomach and bags full of back-to-school supplies, thanks in part to the great man's help.
Along with wide receiver Justin Jefferson and linebacker Eric Kendricks, Hunter partnered with SCHEELS to help distribute bags to the kids, outfitting each with shirts, pants, underwear, socks, shoes and a light jacket. brand new. With the Vikings Table food truck in the background, serving free meals to all guests, he also offered autographs and words of encouragement to the crowd. Some of the kids wore Viking gear, but none of them knew they would visit Viking players and leave with gifts.
"It was a great feeling," said Hunter, "to give back to the kids who couldn't get what they needed. They came from families who hadn't been lucky."
Remembering his own childhood in Jamaica, where the pass hunter was born and raised, Hunter connects with families in need.
"I was unlucky," he said. "I always remember Christmas time, I always remember the feeling of not necessarily having everything. Nobody knows the situation of these children. And that stuff helps."
Just as Hunter strives to be successful in the field in many ways – with both physical and mental tenacity – he believes the back-to-school surprise serve will benefit children in many ways. The physical contributions, from meals to new clothes, are tangible, but Hunter believes they will also help boys and girls know they are being taken care of. And this kind of work is worth more than another bag.