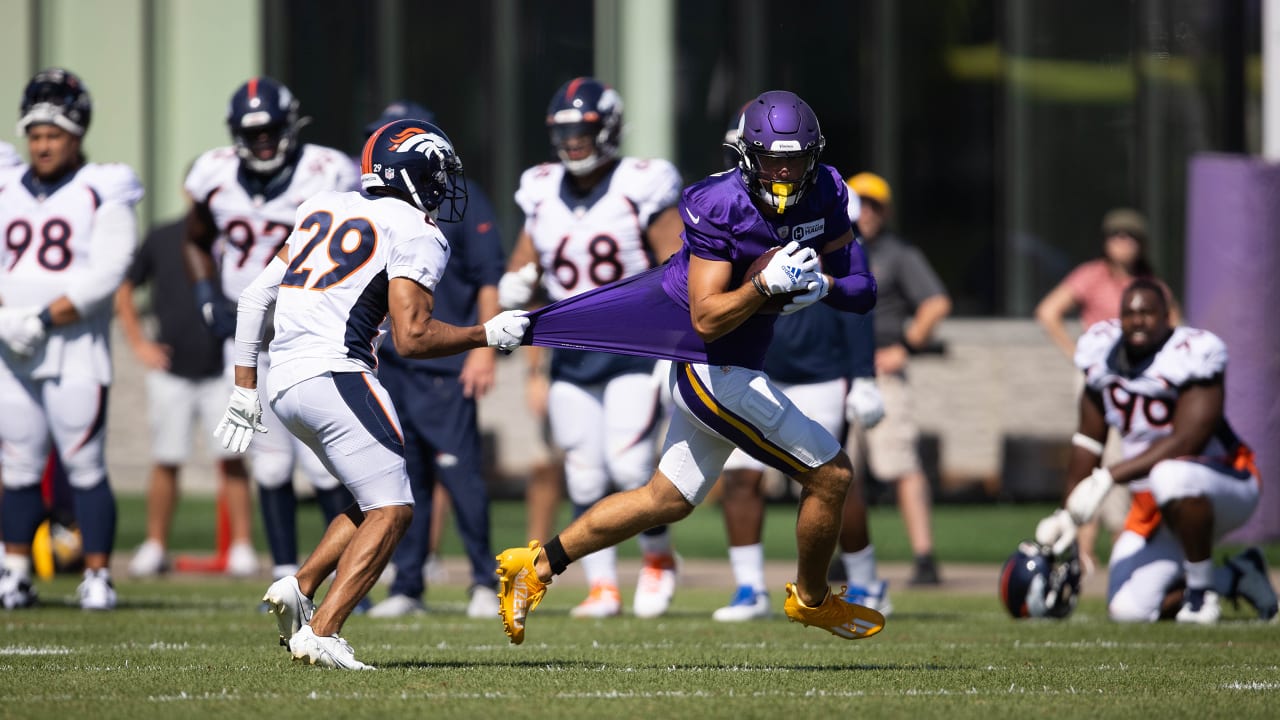 Vikings have their ups and downs in 1st practice with the Broncos
Here are five observations from Wednesday's joint session presented by Minnesota Eye Consultants, the proud ophthalmology partner of the Minnesota Vikings:
1. Defense struggles early but picks it up
The Minnesota defense didn't start well, as the combination of Broncos quarterbacks Drew Lock and Teddy Bridgewater looked strong in the 1-on-1 drills and in the 7-on-7 game to open the practice.
But unity has been a game-changer over time, with Michael Pierce in the lead. The mammoth nose tackle won his two reps in 1 on 1 and then beat a pass from Bridgewater on the line of scrimmage. Pierce then made his way through the interior for a probable bag.
Sheldon Richardson looked beefy in the racing game, and Stephen Weatherly would likely have had a Lock strip sack in a real match. Eric Kendricks also had a nice pass break in a passing drill.
2. Vikings from top to bottom in situation drills
The teams went through several situational drills on Wednesday, starting with an end-of-half situation in the second quarter.
The two starting attacks trailed 7-3 and had the ball on the opponent's 39-yard line with about 45 seconds left.
The Vikings' defense took a stand and forced a potential field goal of 57 yards, but the kick was not attempted.
On offense, Kirk Cousins ​​moved Minnesota into the red zone but settled for a 33-yard field goal from Greg Joseph.
The team worked out a 2-minute situation at the end of practice with the score tied at 21. The Denver defense won this period as the Vikings' offense stalled.
The Broncos offense got two points, as Lock and Bridgewater compete for the starting QB position.
Bridgewater threw a 55-yard touchdown pass to Jerry Jeudy on a play that Bashaud Breelend dived for an interception but missed. However, Minnesota responded quickly when Xavier Woods unchecked Lock on a ball initially led by Mackensie Alexander.
3. Perfect Joseph on FG attempts
Vikings head coach Mike Zimmer said earlier Wednesday that Joseph would likely get all kicking reps in Saturday's preseason game.
Joseph then came out and had a perfect day as he faced off against Riley Patterson for the kick.
In addition to the situational drill placement, Joseph also attempted his five placements in another team period. His long in this session was 53 yards.
Joseph was a perfect 6 for 6 that day and is now 30 of 36 (83.3%) in the camp.
Britton Colquitt also had a notable punt in a team drill near midfield, knocking his kick out of bounds at the 2-yard line.
4. Browning shines in exercises 7 of 7
Jake Browning appears to have a solid grip on the substitute quarterback behind Cousins, and he continued his strong camp on Wednesday.
Browning looked good in the 7v7 drills in the red zone, throwing a pair of scores to other youngsters on the squad.
He hit tight end Brandon Dillon on a post lane in the middle for a score, then connected with Ihmir Smith-Marsette on an off lane for six points.
Browning could get enough playing time in Saturday's preseason game against the Broncos.
5. An introduction to referees
Wednesday was the Viking camp's first practice with refs in attendance, and Zimmer will likely use it as a teaching method for his team.
Breeland and Patrick Peterson were both whistled for penalties early in the passing drills, while Arm Watts and Hercules Mata'afa each jumped offside at different points in practice.
Calls also went both ways, as Denver's offense was whistled for both a false start and a taunt penalty throughout practice.
It should be noted that week 1 of the 2021 season is still a month and a day away (September 12), so there is plenty of time to clean up the let-go.
But Zimmer will likely want to see a sharper performance from his defense in Thursday's joint training.