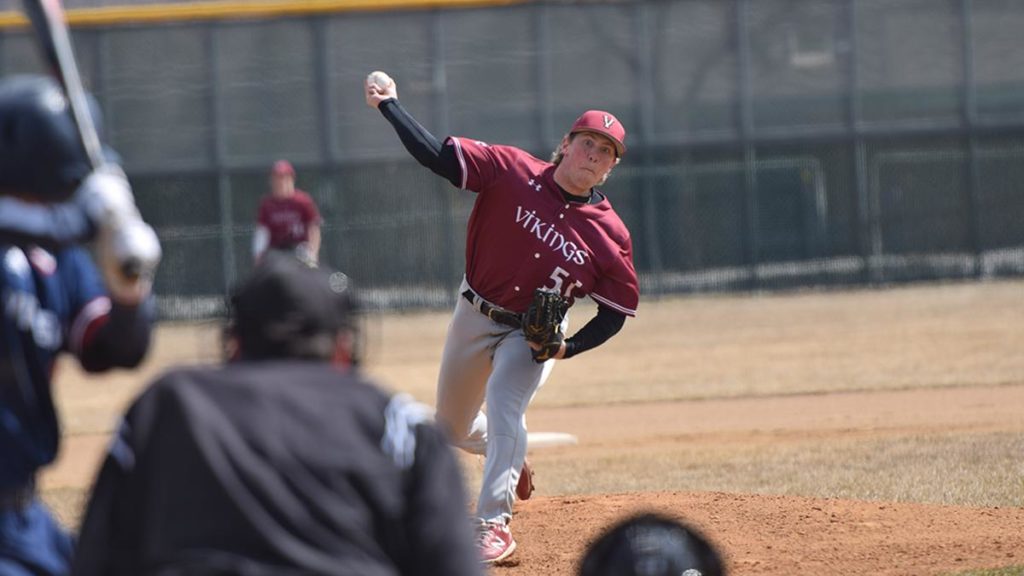 Vikings, Viterbo Split Doubleheader for the second day in a row
From VCSU Athletics
VALLEY CITY, ND (VCSUAthletics.com) – Valley City State and the University of Viterbo shared another baseball doubleheader Saturday afternoon in Valley City, ending their 4-game series with records of 2-2.
Viterbo got into Game 1 on Saturday, earning a 10-0 victory and a one-hitter shutout by pitcher Eric Taylor. Valley City State bounced back with a 7-2 victory in Game 2 thanks to a solid pitching performance from William Hlady.
Hlady struck out 12 in 5 2/3 innings and Christian Ramirez hit his first collegiate home run in VCSU's second win.
Valley City State is now 14-16 overall and 5-7 in conference. Viterbo University move to 9-23 overall and 2-10 in the North Star Athletic Association.
Following: Valley City State is set to host Jamestown for a non-conference game on Wednesday — weather permitting.
MATCH 1: Viterbo 10, VCSU 0 (7 rounds)
Cole Benson hit a pair of home runs in Game 1 as the V-Hawks cruised to a 10-0 victory in seven innings.
Benson hit a solo home run in the top of the first inning to start the scoring and then added a 2-run blast in the fifth inning. Zach Braun also homered for the V-Hawks, who finished with 10 hits.
Valley City State only had one hit — a sixth-inning single from Jaden Babiuk to break Taylor's no-hitter bid.
Eric Taylor threw a complete shutout for the V-Hawks, allowing just one hit and striking out eight.
Zach Veneman started on the mound for VCSU, working five innings as he scatter eight hits and six runs.
Benson led the V-Hawk offense with his two home runs. Kendal Hofer was 1 for 4 with a run and three RBIs, and Blake Warner went 1 for 4 with a run and two RBIs.
MATCH 2: VCSU 7, Viterbo 0
William Hlady struck out 12 in 5 2/3 innings on the mound, scattering five hits and two runs en route to victory.
The Vikings had five runs late in the third inning. Christian Ramirez started the inning by drilling the first pitch he saw over the center field fence. It was the first collegiate home run for Ramirez. David Demeter followed with a 3-run homer later in the set – his 8th of the season – then Adam Thompson finished the rally with an RBI brace to make it 5-0.
The Vikings tacked on two more runs in the fifth inning after Jayden Shipman hit a yank at second base with the bases loaded. Viterbo's Brody Larson made the save, but his throw went past the first baseman and two runs came in to score for a 7-0 lead over Viking.
Viterbo scored his only two runs in the top of the sixth on an RBI double from Cody Wells and an RBI single from Zach Braun. The V-Hawks had two other runners on base, but Carter Dodd came on as relief for VCSU and recorded a strikeout to get out of the jam.
Dodd pitched an inning before leaving the game in the 7th after being hit by a comeback. Jack Kelly came to record the finale for VCSU.
Drew Nixon was 2 for 3 with a pair of runs, and Demeter went 1 for 2 with three RBIs. Ramirez was 1 for 3 with his home run and Thompson was 1 for 2 with an RBI double and a walk. The Vikings totaled seven hits, each getting one from Jett Salonek and Jaden Babiuk as well.
Viterbo finished with six hits, including two from Cody Wells. Kendal Hofer, Blake Warner, Cole Benson and Braun each had a hit for the V-Hawks.