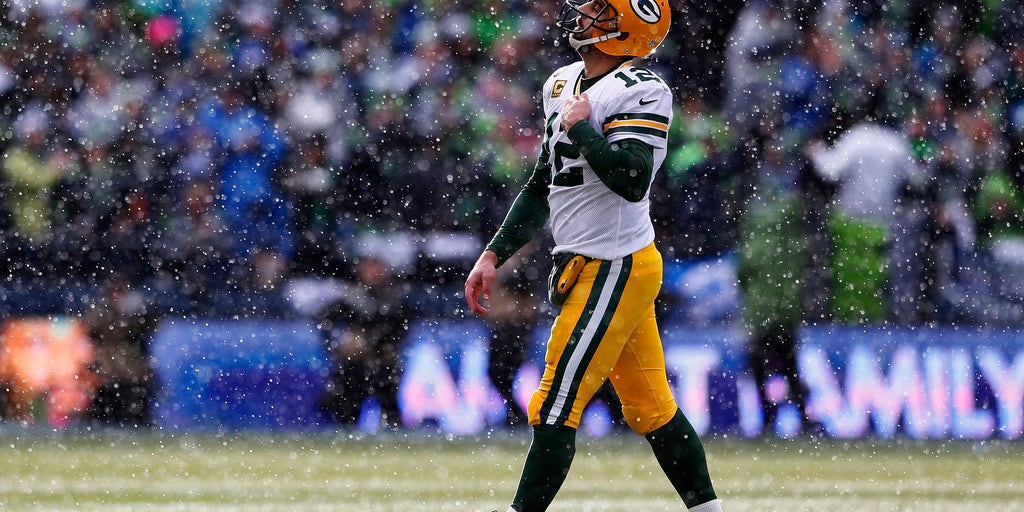 Why rain could put a damper on your Week 2 lineup
We all know the weather can affect a team's game plan. And that game plan can impact a player's stats, which is critical for fantasy football owners.
Several matches on Sunday could be wet with rain in the forecast which will eventually hamper player performance.
Seahawks vs. 49ers in San Francisco
Just as we saw last week in Chicago when the Bears took on the 49ers, rain isn't always conducive to an effective passing game.
One such game where rain could play a role is the Seattle Seahawks vs. San Francisco 49ers. Rain is forecast for the 49er's game at 1:05 p.m. PT, and Levi Stadium, technically located in Santa Clara, has no roof to protect fans or players.
San Francisco 49ers quarterback Trey Lance didn't have a great game in all of Week 1, fantasy football or not. He completed 13 of 28 pass attempts for 164 yards and an interception in his team's season opener loss to the Bears on rain-soaked Soldier Field.
But he carried the ball 13 times for 54 yards, leading the team, so that could be a bright spot heading into Week 2 if you have to start Lance in your lineup.
Lance's performance history is very limited as this is only his second season in the league, but according to SportsWeatherwe will see a decrease in his Fantasy Point production of 0.46 points due to the weather.
HEAVY RAIN FLOODS SOLDIERS FIELD DURING CHICAGO BEARS SEASON OPENER AGAINST SAN FRANCISCO 49ERS
So if you're considering putting Brandon Aiyuk as a flexible option for Week 2, you might want to rethink your fantasy football roster and go for a running back instead, if you have players encountering a stormy Sunday.
Rain hampered options at the 49ers last week, and San Francisco is surely looking to redeem itself this week after losing to the Bears on a flooded Soldier Field in Week 1.
Deebo Samuel caught just two passes for 14 yards. His run was more impressive, gaining 52 rushing yards, so he can still be a good flexible option for your lineup.
From the Seahawks' perspective, running back Rashaad Penny could also rack up more points this week due to the wet conditions. He carried the ball just 12 times for 60 yards Monday night against the Denver Broncos, but expect him to get more touches on Sunday, especially if rain eventually plays a role.
While Seattle's new starting quarterback Geno Smith had a great Week 1, the weather could hurt his Week 2 performance.
HOW WEATHER CAN AFFECT NFL GAMES
Currently, there's a 44% chance of rain in Santa Clara, and when it does, Smith averages 10 fantasy points, which isn't ideal for your starting quarterback in fantasy. .
Bears vs. Packers in Green Bay
Another roofless stadium that expects storms is Lambeau Field. The Packers take on NFC North rival Chicago Bears in Green Bay in a prime-time game on Sunday night to see if quarterback Aaron Rodgers still owns the Bears.
While certainly a long bomb in Christian Watson could rack up points, Aaron Jones and AJ Dillon are better options due to wet conditions and a lack of reliable receivers. However, you can never rely on Aaron Rodgers, even after a poor performance in Week 1.
CHICAGO INSTALL NEW TURF AT SOLDIER FIELD AHEAD OF SEASON OPENER AGAINST 49ERS
According SportsWeather, Rodgers' passer rating as well as average fantasy point production are much better when the temperature feels below 65 degrees. It is currently forecast to be 73 degrees in Green Bay at game time.
Even with warmer than average conditions and storm potential, SportsWeather predicts that Rodgers' fantasy point production will be 0.23 higher than expected.
And while it could be argued that the Bears' win last week in the rain was down to a lack of consistency from Chicago and San Francisco, David Montgomery and Khalil Herbert should be viable options for the Bears' running game. , as we could see another heavy game plan from Chicago on Sunday.